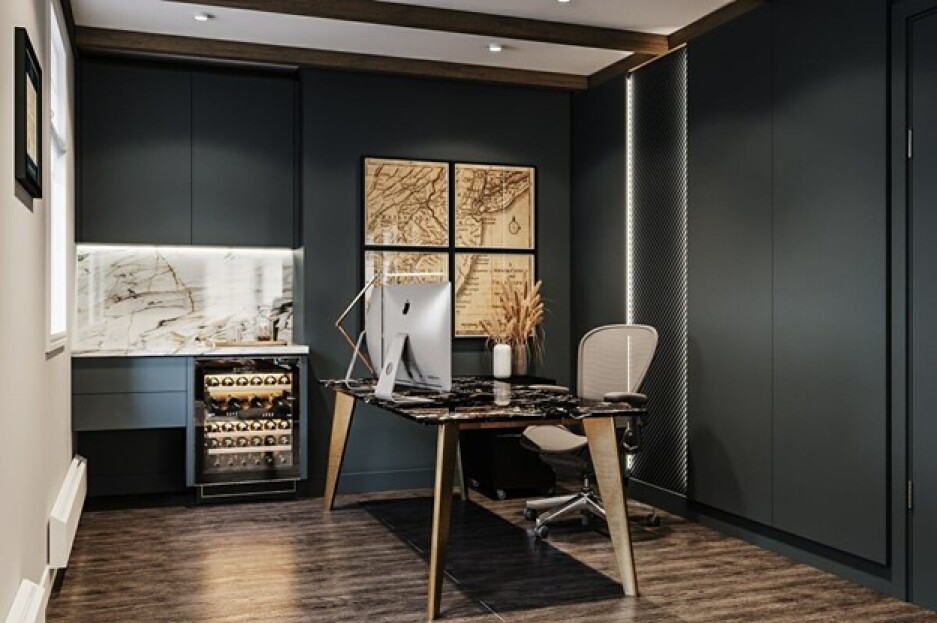 Throughout the last two years, the relationship between people and their living spaces has changed. Many of the trends for 2022 will build on what we've learned about how we use our homes. These will incorporate the values that have become so important to us during this long adjustment period. This blog will cover the key trends in building and design that you can expect in the upcoming year.
Dedicated home offices
Employees who thought they'd be working from home for a few months in 2020 are now planning to make this change permanent. As people scrambled to set up workspaces in their homes, many were frustrated with sharing that space, and others had trouble with the flow and ergonomics of their improvised offices. New builds and renovations will include dedicated offices designed to make working from home as stress-free as possible. Custom builds can incorporate the homeowner's preferences about the location of the home office, the technology that it will need to accommodate, and even the background that clients and coworkers will see on video calls. Features like soundproofing will be more common as homeowners continue to meet the challenges of working in the middle of a busy home environment.
Luxurious outdoor spaces
Outdoor entertaining is more popular than ever, and this trend will continue. Decks, patios, and landscape features will be more integrated with the rest of the home in terms of style and function. Expect to see outdoor spaces that can be used in any weather, such as covered decks and patios. Separate structures on the property to accommodate exercise studios, offices, hobby workshops, and party rooms will also be more common.
Connections to nature
People have spent much more time outdoors over the last two years, learning its beneficial effects and seeing how those effects can carry through to their living spaces. New builds and renovations will have features to let in more natural light, such as large windows, skylights, and solariums. Expect to see lots of natural elements in construction and design, such as sustainable or reclaimed materials, eco-friendly options like geothermal heating and solar panels, and finishes in stone, wood, and clay. Design features that mimic the natural world, such as curves, fractal patterns, symmetry, and planned imperfections, will be popular.
Integrated technology
Technology is no longer an afterthought. We rely on it more than ever, but we want it to be invisibly integrated into our living spaces. Charging stations will be built into the design to be convenient but unobtrusive. New builds will accommodate all the current smart options for homes and can also include features for future needs, with additional wiring and clever concealment options.
Upgraded kitchens and baths
Kitchens have always been a central feature of the home. Still, people are increasingly enjoying the experience of cooking, and they want kitchens that allow for all sorts of culinary and entertaining possibilities. Kitchens will have plenty of counter space, dedicated storage for small appliances, desks for researching recipes, and butler's pantries.
Bathrooms are now seen as relaxation and recovery spaces as well as places where we attend to personal needs. Expect to see features like steam showers, free-standing soaker tubs, and radiant floor heating. On the higher end, look for home saunas, massage rooms, and luxury water closets to be offered as options.
A space for everyone and everything
People have discovered that they can do almost everything at home, but this has led to crowding and clutter for some. New builds will make it easier for homeowners to use their spaces in whatever way they want to by designing rooms dedicated to a specific use or that can quickly and easily transition from an office to a guest bedroom or from a garage to an exercise room. Ensuring that the structure can support the intended use and that all the appropriate features are in place at move-in will be part of the planning process on custom builds.
Pet-friendly features
Many homeowners think of pets as part of the family, and they want their homes to accommodate the needs of their animals. Upgraded mudrooms will have space to clean your dog up when it comes in from outside. No more scrambling to find old towels when the dog rolls in the dirt, and no more panicked searching for tomato juice when they encounter a skunk in the backyard. Dog showers where you can wash your pet before they walk through the rest of the house are becoming much more common. This trend will pick up as homeowners come to think of these features as standard in larger homes.
Also, expect to see more homes with dedicated nooks for food bowls, pet beds, and cameras so homeowners can check on their pets when they're not at home.
New builds and major renovations are all about choices. This can be liberating, but it can also be overwhelming. Working with a team of building and design professionals ensures that you've got the advice you need on every aspect of the process and know all the available options. At 76 Construction, we have over 25 years of experience in the construction business, and we have experts in all phases of designing and building residential and commercial structures. Browse our website for more information about our team of professionals, and then contact us to talk about how we can turn your wishes into concrete plans.
Get Your Project Started
Turn your dream home into a reality!