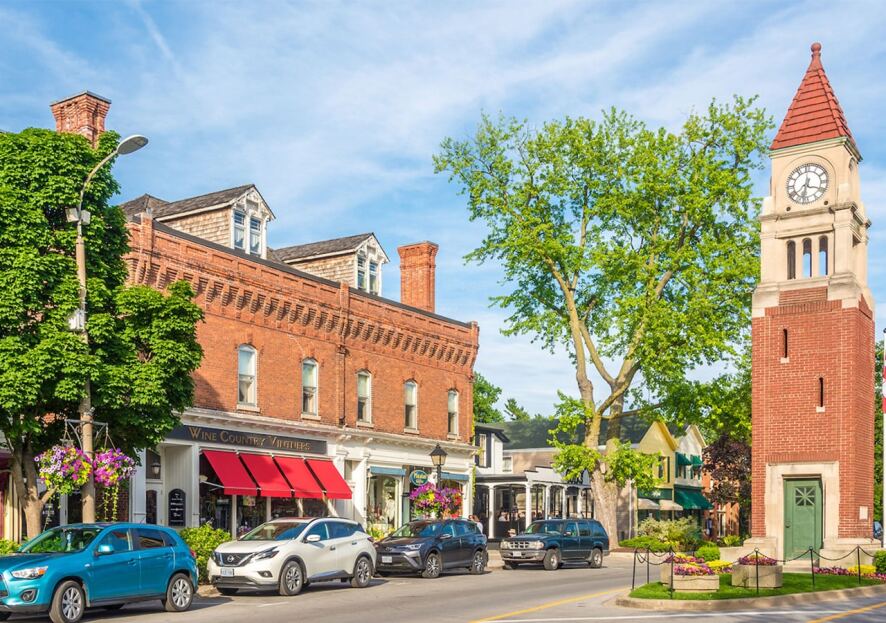 If you've spent any time in Niagara Region, you've no doubt dreamed of living there. Is it time to stop thinking about it and start planning for it? In case you need a reminder, here are the top five reasons to choose Niagara Region for your new home build.
Natural Wonders
The spectacular Niagara Falls aside, endless sources of fascination and inspiration exist in Niagara Region. The stunning Niagara Gorge with its bankside boardwalk, the Niagara Whirlpool, the many hiking and biking trails, the conservation areas, and the beaches promise wonder for young and old alike. Niagara Region is also a birdwatcher's paradise, with over 300 bird species making their homes there for at least part of the year. Locals don't need to plan vacations around birdwatching opportunities: living on a migratory flight path means you can take advantage of the best days and times to catch your favourite species. Due to its unique climate and geology, Niagara Region is also home to 53 species of mammals, 36 species of reptiles, and hundreds of species of rare flora.
While it's a popular destination for tourists, wildlife enthusiasts, and adventurers, there's no shortage of peaceful places in Niagara Region where you can relax with a book or enjoy a picnic with the family while taking in the beautiful views.
A Foodie'sParadise
Its unique microclimate makes Niagara Region a top Canadian producer of grapes, apples, and tender fruits like peaches, plums, and cherries. Residents can get the pick of the crop at local roadside stands, farmers markets, and pick-your-own-produce orchards. With its ideal climate and soil conditions, the Niagara area is home to enough vineyards to supply its over 50 wineries. And what's a good wine without fine food to pair it with? Foodies can find everything from fine dining to high tea to farm-to-table fare without stepping outside Niagara Region.
Niagara Region is also home to several research institutes that develop novel approaches to agriculture. Paired with easy access to shipping routes, these cutting-edge innovations have made Niagara Region an essential hub for agribusiness—jobs and business opportunities are on the grow here, right along with the fruits and vegetables!
Ideally Located
Niagara Region is a short drive from Hamilton and the GTA, and public transit via GO Train is now available year-round, with stops in Grimsby, St. Catherines, and Niagara Falls. Head back to the city for a concert, a sporting event, or a visit with friends, and return to your new Niagara home on the same day. Travelling by air couldn't be easier, with Pearson, Billy Bishop, Munro- Hamilton, and Buffalo-Niagara International Airports close at hand. Travelling by car to points in Upstate New York, Pennsylvania, and Ohio is also convenient from Niagara Region, with border crossing points at Queenston, Niagara Falls, and Fort Erie.
Education and Learning Opportunities
History, geology, biology, and agriculture all come together in Niagara Region. The geologically significant Niagara Escarpment provides opportunities to learn about such diverse topics as cliff formation, prehistoric marine life, glacier movement, and shipping. The abundant flora and fauna in the area and the farms and greenhouses create natural classrooms where children and adults alike can learn about the conditions that encourage survival, growth, and diversification.
Niagara-on-the-Lake was, of course, the first capital of Upper Canada. There are many important sites in Niagara Region where people can learn about the early history of the British in North America. Due to its strategic location between Canada's most populated area and the Northeastern United States, Niagara Region has also played an important role during times of conflict. Sites such as Brock's Monument in Queenston and Fort George National Historic Site in Niagara-on-the-Lake bring battles of the War of 1812 to life. As well, the Niagara Falls Underground Railroad Heritage Center lets visitors experience the stories of the people who escaped slavery in the United States and made a new home as free people here. Niagara Region is also home to many fine post-secondary educational institutions and several prominent research institutes, including Brock University, Niagara College, the Niagara Campus of Trillium College, and the Vineland Research and Innovation Centre.
Value For Your Real Estate Dollar
Real estate values are lower in Niagara Region than in many places in Ontario, including the GTA and the National Capital Region. If you're considering a new build, affordable lots are available in suburban areas, small towns, and the countryside. Work from home in a place where everything you need is at your doorstep. When your workday is over, kick back and relax outside with an award-winning Niagara Region wine, go for a bike ride through orchard-lined country roads, or take in a play at the renowned Shaw Festival. Why wait until you've saved up enough for a deposit on a pricey place in the city when you could be growing equity in your brand new home today?
This is just the beginning of the list of reasons to choose Niagara Region for your new home build. We didn't even get to the excellent shopping, the world-class golf courses, or the many small towns you could be settling into. At 76 Construction Management, we're delighted when anyone is considering building a new home here, and we are ready to partner with you. We have over 25 years of custom home building experience in Niagara Region. We're familiar with the towns and the landscape, know the local building codes and permitting processes, and have well-established relationships with dependable local suppliers. Whatever you need for your build: architects and designers, an experienced build team, dedicated tradespeople, interior decorators . . . we can even help you find a lot for your custom build in Niagara Region. Don't delay any longer! Reach out today to get started with the best move you'll ever make.
Get Your Project Started
Turn your dream home into a reality!