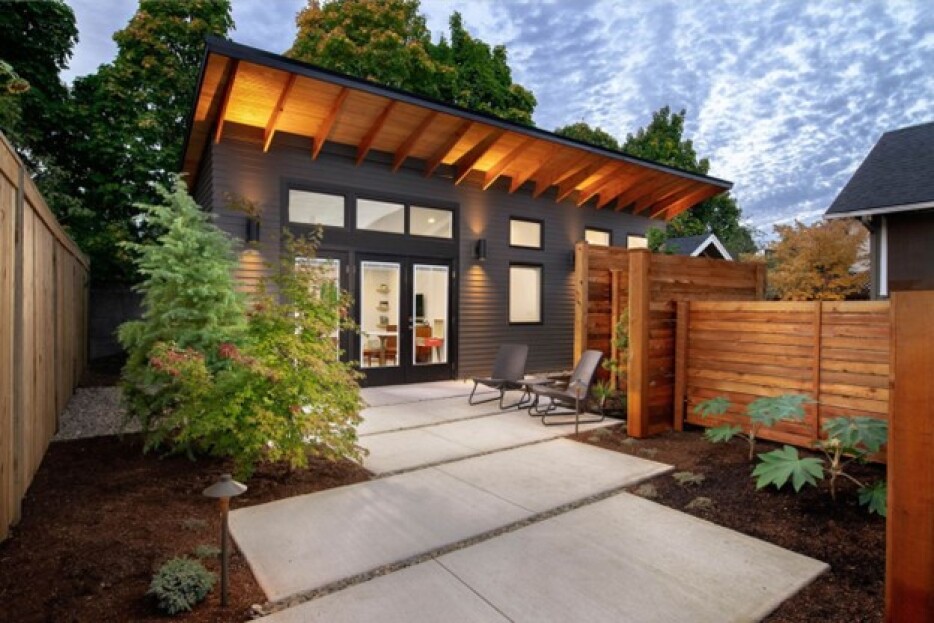 Secondary suites, also called in-law suites, guest suites, accessory units, or basement apartments, are self-contained living areas within an existing home or on the same property. They have a living area, kitchen facilities, and a bathroom at minimum, but may also have a separate entrance, one or more bedrooms, and a laundry room.
With the addition of a secondary suite, homeowners can:
Generate rental income, either from long-term tenants or short-term vacation guests
Host visitors or family members in comfort
Give growing teens some independent space
Create a multigenerational space for adult children or aging parents
Prepare to age in place
Split the purchase cost of the house with another couple
Increase the resale value of their home
Help to ease the housing crunch
Getting Started
A secondary suite comes with exciting options and opportunities, but they also have limitations and regulations that apply specifically to them. The main things to consider when you're starting to plan are:
How you'll use the space, now and in the future
Zoning and permitting in your municipality, and the building code for the type of structure you're planning.

Check your local government's website for an overview of zoning and permitting information and the Ontario Building Code for applicable regulations.

Where the unit will be: in your existing home, in an addition or extension to your home, or as a separate structure on your property, if you're building a new custom home, you can also incorporate a secondary unit into the plans.
How much to spend. Many factors weigh into this decision, including:

How extensive will the work be: are you digging a deeper foundation, adding an extension, or updating your entire electrical system for more capacity?

The size of the proposed unit: how many rooms will it have, and what size will the rooms be?
How the space will be used: will it be a hang-out for your teens, or do you hope to use it as short-term corporate housing for high-end renters?
Which amenities and finishes do you want: the range of options is endless, and some can drive up the price of your renovation while adding little value.
Whether there are grants or other types of funding available to you, some municipalities are offering financial assistance to homeowners for secondary suites as part of their campaigns to ease the housing crisis.
How much income you can earn from your unit. Look at rentals in your area for a ballpark figure.
Building for Flexibility
By now, you know that you'll need to make a lot of decisions before you start building your secondary suite. Some of these decisions may feel like you're locking yourself into a rigid plan for the future.
However, many custom builds and renovations are now designed for flexibility so that the space is ready for your changing needs. Consider features that look modern but meet accessibility requirements. Think about elements like a curb-less shower and hallways wide enough for a wheelchair, as well as rooms that can easily be converted for different uses. These may involve things like a games room that can serve as a main-floor bedroom or a gym that can easily be changed into a home office.
Moving Forward
If you've decided to go ahead with your project, your next step is to have plans prepared for your renovation or new build.
If you're building a new structure on your property and you're confident you can meet the zoning and building code requirements, you can purchase ready-made plans for your design.
If you're adding to your home, your best bet is to hire a dedicated professional who knows the local regulations and has a broad vision for what your space could be. Architects, home designers, and home addition contractors all offer services for this part of your project. Look around at websites of area professionals, talk to their previous clients, and set up interviews to find someone with the right skills and experience.
Once you have your plans in hand, you can apply for building permits from your municipality. If you need variances (a deviance from the municipality's building-related rules), you will need to justify the variance to a committee. You may feel confident doing this yourself, but your building professional can make the process easier by coaching or advocating for you.
Working With a Home Addition Contractor
Home renovation shows may convince you that you can do most of the work on your addition or extension on your own. While it's possible to do this, your project will take longer and will likely cost more. A professional home extension contractor does more than managing the build. They add value by:
Tackling obstacles: Every addition, extension, renovation, and custom build runs into problems. Issues with permits, delays in material delivery, cost overruns, shortages of tradespeople, and change orders all throw curves into the otherwise linear construction process. Experienced home addition contractors have faced all of these obstacles before and can help you navigate and overcome them
Interacting with inspectors: Your renovation or addition will be inspected by your municipality several times. They may have questions or corrections that your building professional will handle on your behalf.
Suggesting upgrades (or downgrades): Home extension builders know which features add value to a home and which are renovation fads that will lose their appeal in a few years. They also understand functionality and where you should spend more money to make the space easier and more pleasant to use.
Assisting at various stages of the build, including choosing a location for your rental suite, advising on the design, and presenting you with finishing options.
About 76 Construction
When considering a renovation to add a secondary suite to your home, you won't find a better partner than 76 Construction. With us, you'll have access to an entire team of professionals who can help you with any or all parts of your project: locating a site for a new build, designing your new space, obtaining permits, managing the build itself, handling inspections, choosing finishes, and landscaping for maximum enjoyment and curb appeal. Contact us today to talk about the possibilities for your secondary suite.
Get Your Project Started
Turn your dream home into a reality!